MiSight® 1 day – the first soft contact lenses proven to slow the progression of short-sightedness (myopia) in children1
At a glance
Soft, daily disposable contact lens suitable for myopic children
MiSight® 1 day corrects short-sightedness so children enjoy clear, spectacle-free vision
MiSight® 1 day has a special optical design which may help slow down the speed at which myopia progresses
Designed for children with two benefits:
MiSight® 1 day corrects short-sightedness so children enjoy clear, spectacle-free vision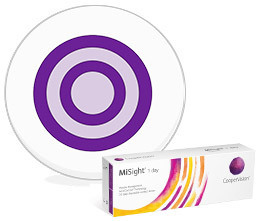 MiSight® 1 day has a special optical design which may help to slow down the speed at which myopia progresses1
A child may need a stronger prescription as they continue to grow2

MiSight® 1 day lenses are child friendly*
Over a three-year clinical study MiSight® 1 day contact lenses in children aged 8–15 years:1
of children said they preferred wearing their MiSight® 1 day contact lenses over wearing their spectacles.

of children could handle MiSight® 1 day lenses on their own.*

of parents said their children were happy with the experience of wearing contact lenses, including comfort, vision, ease of use and freedom from spectacles.
* As reported by parents.

1. Chamberlain P, et al. Clinical evaluation of a dual-focus myopia control 1 day soft contact lens - 3-year results BCLA 2017.

2. Sulley A, et al. Wearer experience and subjective responses with dual focus compared to spherical, single vision soft contact lenses in children during a 3-year clinical trial. Poster presented at AAO 2019, San Francisco, Calif. Sponsored by CooperVision Inc.
MiSight 1 day soft contact lenses for vision correction and control of the progression of myopia. Your optometrist will advise if this product is right for you. Always read the label and follow the directions for use (https://coopervision.net.au/patient-instruction).