Fitting Presbyopes with Multifocal Contact Lenses
Practitioners discuss their experience of fitting presbyopes with multifocal contact lenses
Moderator

Joe Tanner (JT)
Professional Services Manager, CooperVision Australia.
The Panelists

Duana Forster (DF)
Optometrist for a group of practices in the Sydney CBD.

Narelle Hine (NH)
Owner of a practice in the Sydney CBD.

Sue Green (SG)
Owner of two practices in inner suburban Sydney.

Kate Johnson (KJ)
Owner of a practice in the Brisbane CBD.
Introduction
The largely untapped potential of the 45-64 year old age group to wear contact lenses is possibly the largest growth opportunity in optics. There are 5.5 million Australians in this demographic and they have higher net worth and disposable incomes than any other age range1,2. They tend not to think of themselves as "old" and are prepared to invest in products that improve their lifestyle and appearance. Contact lenses would seem an attractive option to many given that the great majority need at least a near correction.
If 15% of 45-64 year olds were using contact lenses then the overall number of wearers in Australia would approximately double. A practice with 3000 presbyopes on its books would experience a six-figure increase in turnover even if all the wearers were part-time. These patients have also been shown to be more loyal to the practice providing their eye care with only 8% of those in a 2012 survey indicating they had bought contact lenses online. This compares with almost three times that proportion for pre-presbyopes3.
To explore proven ways of capitalising on this opportunity, CooperVision invited four optometrists who regularly fit presbyopes with multifocal contact lenses to discuss how to maximise success with these patients.
Creating Awareness of Multifocal Contact Lenses
JT: Perhaps the main reason for the relatively low usage of these lenses is the lack of awareness amongst potential wearers. Many presbyopes do not know there are contact lenses that can correct all ranges of vision and assume spectacles are the only realistic option for them. Which patients do you look for to create the initial interest?
KJ: Patients who are cranky with their glasses are a great opportunity – especially when they are new presbyopes and unhappy at the prospect of becoming dependent on glasses in everyday life. They are open to alternative ways of managing the problem and happy to try CL. In my practice a lot of these patients have been motivated by a frustration with glasses and so they have looked upon contact lenses as a full time option. I've put some early presbyopes into multifocals as their primary correction when their occupation has suggested they would work better. For example, teachers who are frequently alternating their viewing distance and electricians who sometimes need to see up close and with elevated gaze.
SG: Communication is the key and encouraging patients to try. They love being given the option of contact lenses. I explain that it may take a few visits and it may seem difficult at first but that the benefits are great if it works out. I wear multifocal contact lenses and tell my patients that I do. Chefs can be better of with multifocal contact lenses. Vanity is probably still the biggest driver, however.
NH: I tell patients that it can change their life. Especially patients who have been presbyopic for a few years and now appreciate that their dependency on glasses is becoming total. The inconvenience of not being able to see a watch or mobile phone screen clearly can be very annoying. It's fun to see the happy response when you make these everyday visual tasks easy with contact lenses. Some patients say they feel five years younger! I also tell them that I wear multifocal contact lenses which gives them confidence.
DF: I'm happy to discuss contact lenses with first-time presbyopes, especially when the reaction to needing glasses is negative. I want them to know about all the options. People do not want to feel like they are getting old and wearing glasses for the first time to read is a major sign of middle age. And it's men as well as women who are interested.
JT: Does your staff have a key role in the process?
NH: Yes and we probably need to train them even more.
SG: I agree.
KJ: We have regular staff meetings but it always takes a lot of time and energy to get staff to the right level and using all the available communication tools. However, if they are not able to do that, then I know I end up spending extra time explaining matters to the patient.
DF: Staff are ofen the first point of contact and so they need to be able to explain the options. It makes my job easier when the patient already has a certain level of knowledge before I get to see them. It's important that the staff know what goes on in the consulting room and know what it's like to wear contact lenses so they can empathise and impart confidence to potential wearers.
How to Discuss "Visual Compromise"
JT: What are the things you say to patients when discussing the potential for a visual compromise?
KJ: I say that any contact lens where more than one distance is being corrected involves some compromise. However we should be able to give you 80-90% of what your glasses do and if what is left over can be tolerated then the lenses will work well for you. When making adjustments I always talk in terms of finding the best all round solution while explaining they will not necessarily get perfection everywhere.
NH: With older presbyopes I sometimes find that their general vision with multifocals is good enough but they may have a specific task for which they need some extra help. In these cases I may show them the efect of a pair of +1.25D over-readers and explain they will only need them perhaps 10-15% of the time versus 100% if not using contact lenses. I will only make changes if there is a definite improvement and, again, I like to check this with real world tests rather than traditional letter charts.
Setting expectations is important. Where I practise it is easy to send people out for a two-hour trial and ask them for their impression of people's faces which is socially so important to us all. I also ask them about the view out the window and the clarity of their computer screen. I often now use a "Smart phone near vision test" rather than a conventional reading card – it's more relevant.
SG: I wear multifocal contact lenses. A big key to success is good quality of distance vision which is not always the same as consulting room visual acuity. In my practice I can open the doors and let the patient see out across the harbour. If that seems OK to them, then I know we are on the right track. I can quickly tell whether they have "comfortable" vision or not. It could be described as "soft focus" – sharp enough to see what is needed. The vision must also feel normal and not be blurred in an unusual manner. Obviously the vision needs to be good enough to drive if that's a requirement.
Deciding on the Initial Modality
JT: Thinking about a standard presbyope where the decision has been made to try contact lenses, where do you start: single vision lenses, multifocals or monovision?
NH: I think there are a few essential steps and perhaps the most important is understanding dominance. If they have strong dominance in one eye for distance and the other eye for near then I will consider monovision. However most patients aren't like that and are better in multifocals.
KJ: I think that the add is important. The higher the add power, the less successful monovision becomes. So I think we are better of starting with multifocals in most cases.
SG: I agree that checking dominance is very important. I'm also prepared to be creative: sometimes a multifocal in one eye and a single vision lens in the other gives the best result.
Keys to Successful Fitting
JT: How do you maximise your fitting success?
SG: I find I need to maximise distance plus to get best results. I think if you can get the patient seeing reasonably well quite quickly in the fitting process – a good trial set helps with this – then they gain confidence in the lenses and you.
KJ: I find the same.
NH: Understand their needs and lifestyle. Communication – making sure they understand the limitations. Afer a routine eye examination you know enough about their eyes to put some trials in. I ofen do at frame selection and say something like, "Let me give you a little demonstration of what contact lenses can do." There is no charge for this. It amounts to a two-hour "experiment" or "demonstration" initially. I don't have to use time teaching insertion and removal and I use this short trial to decide whether to go further. It's like a test drive of a sports car. It also gives me valuable information on how much I may have to tweak things. I don't want them taking lenses home unless we are at least 90% there so we minimise the risk of disappointment.
DF: I'll show the patient the line on the chart I expect them to see but make this a relatively easy goal like 6/9 or 6/12 and I am really expecting them to do better. Again the main thing is to have a positive initial experience.
Managing Dryness and Other Tips
JT: Do you have any other fitting tips to share, for example, managing dryness?
KJ: Dryness can be an issue. I tackle it straight away with lubricants and get patients to apply to both sides of their lenses. It's important to have communication tools, both visual and also key phrases. The lenses are more complex but having more parameters and designs increases the likelihood of success. It's also important to charge properly for the time taken.
SG: For dryness, I recommend patients go onto omega 3 and fish oil supplements; I have found it can make a significant diference personally. Magnifying mirrors are very useful and essential for hyperopes.
NH: I will get them started on dry eye therapy - usually a drop in the morning and another at night - between the initial demo and the proper trial a week or so later. This biases them towards success before they even start lens wear. I tell them this is a therapy to treat the surface of the eye, not the lenses, and it will improve their chances of successful lens wear. A tip for male patients with large fingers is to use the little finger for lens insertion.
Market Potential
JT: What proportion of 45-64 year olds do you believe would benefit from using contact lenses of any type at least once a week?
KJ: 20-50%. I think anyone who pulls even a slight face when talking about glasses is a candidate and anyone with a distance correction.
DF: 40-70% - parents of younger children and anyone with a social life should be interested.
NH: 40-50%.
SG: I'd also say 40-50%.
Concluding remarks
JT: Do you have any concluding remarks?
SG: Fitting presbyopes with multifocal contact lenses is an opportunity to grow your practice but you need to charge properly.
NH: I agree and it's especially true as there aren't many growth areas lef now.
KJ: The key is enthusiasm. There is satisfaction from the problem solving required and working closely with the patient to get the best solution. The convenience of multifocal contact lenses is a big plus. I talk a lot about groceries and mobile phones with patients! Seeing what they are buying and the prices in supermarkets. As practitioners we perhaps get too concerned with 6/6 and N4 visual acuity when the key measures for the patient are these everyday visual challenges. If they are happy with those, then Snellen acuity is not very important.
References
1. Australian Bureau of Statistics Data, 2010
2. www.taxreview.treasury.gov.au/content/Paper.aspx?doc=html/publications/papers/report/section_3-03.htm (2006)
3. CooperVision Channel Research, April 2012
clariti® 1 day multifocal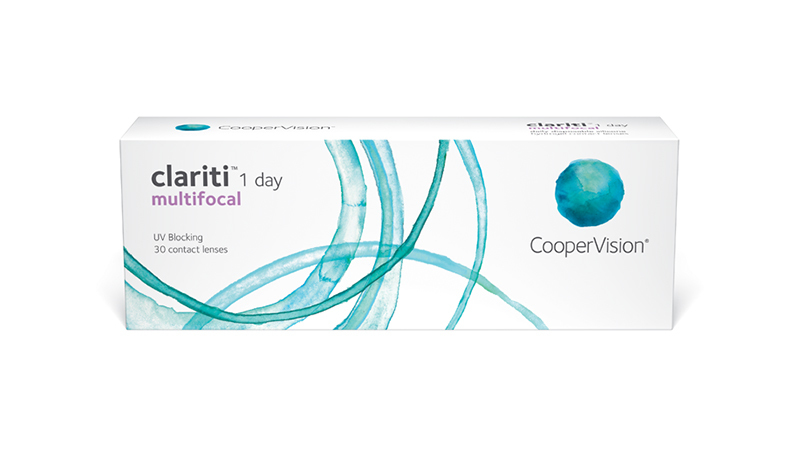 Product Specifications
+5.00 to -6.00D (0.25D steps)
LOW: Spec add up to +2.25
HIGH: Spec add +3.00 and above
Proclear® 1 day multifocal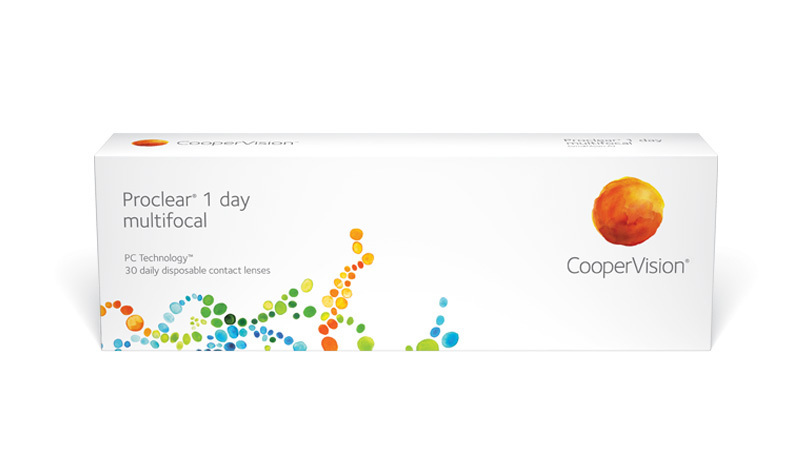 Product Specifications
+6.00D to -10.00D (0.25 steps; 0.50 steps after -6.00D)
All lenses incorporate a +1.00D add power
Centre-near aspheric single power profile
Biofinity® multifocal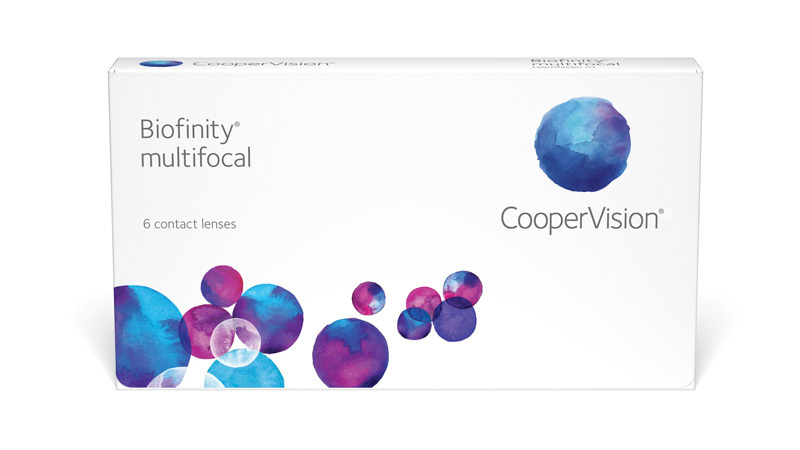 Product Specifications
+6.00D to -8.00D (0.25 steps; 0.50 steps after -6.00D)
+1.00, +1.50, +2.00, +2.50D
Softblue™ visibility tint
Daily, flexible or continuous wear