With new around-the-clock axes1, clariti® 1 day toric now offers more parameter options than any other silicone hydrogel 1-day toric contact lens
SYDNEY, NSW., July 16, 2020— Giving optometrists the opportunity to fit an even broader range of astigmatic patients in a silicone hydrogel 1-day contact lens, CooperVision, Inc. has announced expanded parameters for clariti® 1 day toric. The lenses will be available in aroundthe-clock axes1 boosting clariti® 1 day toric's parameter options by nearly 50 percent.
"CooperVision is known worldwide for toric contact lens innovation and performance. This latest range extension illustrates our commitment to providing a wide range of stable, comfortable silicone hydrogel 1-day toric options, allowing as many astigmatic patients as possible to be fitted," said Gary Orsborn, OD, Vice President of Global Professional and Clinical Affairs, CooperVision. "From sphere to toric to multifocal, and in every modality, CooperVision continues to offer the broadest range of soft contact lenses in the industry to enable today's optometrists to meet the unique vision correction needs of virtually any patient."
CooperVision clariti® 1 day toric features a high-precision design that delivers exceptional optical performance and consistent correction of astigmatism. The lenses also provide excellent rotational stability, with nearly 100 percent of lenses stabilising within 10° or less from the optimum position in three minutes from dispensing. WetLoc™ technology helps to ensure the entire clariti® 1 day lens surface is continuously moist and mimics the moisture dispersion of naturally healthy eyes. clariti® 1 day toric silicone hydrogel contact lenses deliver up to 3x the oxygen transmissibility of 1-day hydrogel contact lenses,2 so patients receive 100 percent of the oxygen their corneas need.
With the addition of around-the-clock axes (indicated in blue), optometrists can fit clariti® 1 day toric with the following parameters: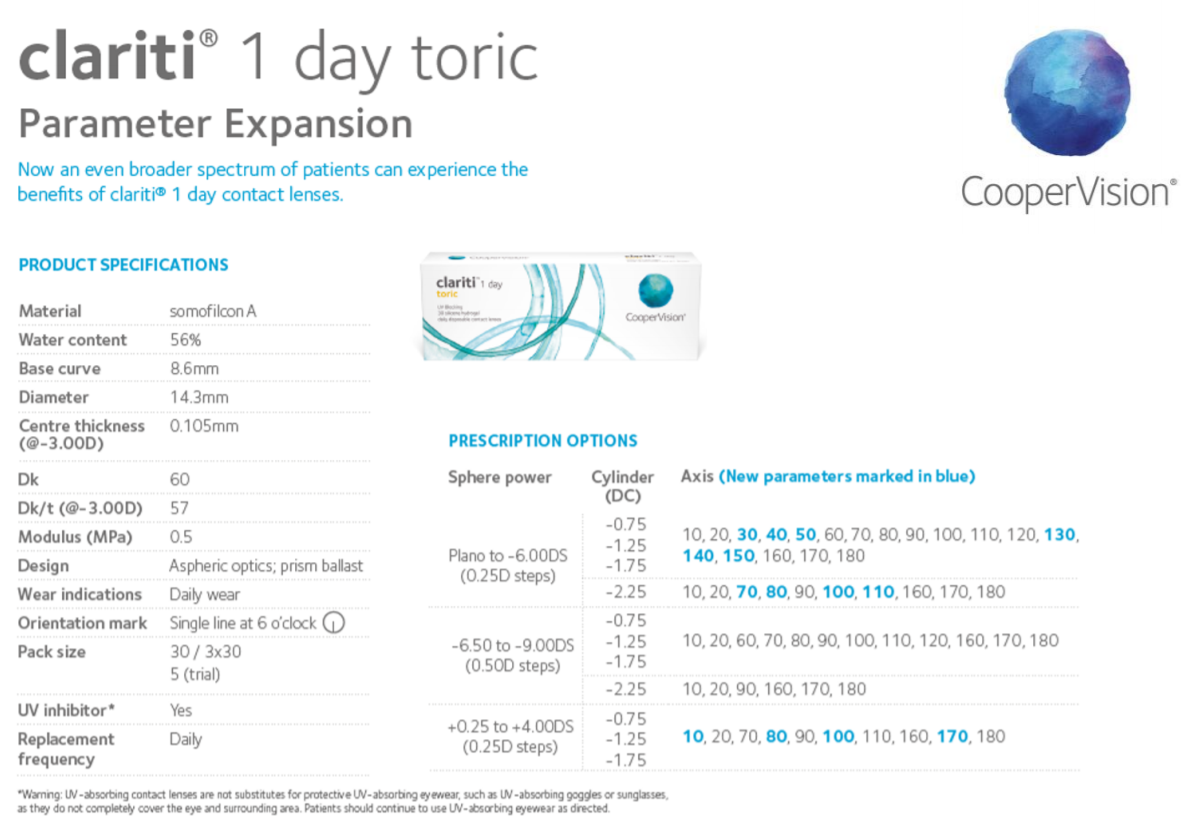 For more information, visit www.coopervision.net.au/practitioner or https://coopervision.co.nz/practitioner
1 Around the clock axes apply only to the most commonly prescribed powers; reference parameter chart for details
2 Based on manufacturer's published data. clariti® 1 day has Dk/t of 86. Compared to Proclear 1 day (Dk/t 28), 1-day Acuvue Moist (Dk/t 33.3), Dailies Aquacomfort Plus (Dk/t 26) and Biotrue ONEday (Dk/t) 42.
# # #
About CooperVision
CooperVision, a unit of CooperCompanies (NYSE:COO), is one of the world's leading manufacturers of soft contact lenses. The Company produces a full array of monthly, two-week and daily disposable contact lenses, all featuring advanced materials and optics. CooperVision has a strong heritage of solving the toughest vision challenges such as myopia, astigmatism and presbyopia; and offers the most complete collection of spherical, toric and multifocal products available. Through a combination of innovative products and focused practitioner support, the company brings a refreshing perspective to the marketplace, creating real advantages for customers and wearers. For more information, visit www.coopervision.com.
About The Cooper Companies
CooperCompanies ("Cooper") is a global medical device company publicly traded on the NYSE (NYSE:COO). Cooper operates through two business units, CooperVision and CooperSurgical. CooperVision brings a refreshing perspective on vision care with a commitment to developing a wide range of high-quality products for contact lens wearers and providing focused practitioner support. CooperSurgical is committed to advancing the health of women, babies and families with its diversified portfolio of products and services focusing on medical devices and fertility & genomics. Headquartered in San Ramon, Calif., Cooper has more than 12,000 employees with products sold in over 100 countries. For more information, please visit www.coopercos.com.
Media Contact
Joe Tanner
Professional Services Manager, ANZ
jtanner@au.coopervision.com or 0457 800 468